The Nelson/Boswell Reading Series is organized by La Sociedad para las Artes, the main outreach organization for the English Department. Every year, the organization hosts free evening readings of national caliber, of readers who also offer manuscript consultation to graduate students and craft talks to high school students, undergraduates, graduate students and community members.
Directors: Rus Bradburd, Phillip Perry, Pardeep Toor
All readings are 7:30 pm Fridays at the Health & Social Services Auditorium, unless otherwise noted.
UPCOMING
In partnership with the National Book Foundation, La Sociedad Para Las Artes at New Mexico State University kindly invites you to an afternoon reading featuring Brandon Hobson, National Book Award finalist, and Kali Fajardo-Anstine, winner of the American Book Award, at 4:00 p.m. on Friday, February 11th, 2022, outside Clara Belle Williams Hall, in the square.

Dr. Brandon Hobson is the author of The Removed, as well as the novel, Where the Dead Sit Talking, which was a Finalist for the 2018 National Book Award, winner of the Reading the West Award, and longlisted for the Dublin International Literary Award. He has won a Pushcart Prize, and his fiction has appeared in such places as McSweeney's, Conjunctions, American Short Fiction, NOON, and elsewhere.

Kali Fajardo-Anstine fiction has appeared in The American Scholar, Boston Review, Bellevue Literary Review, The Idaho Review, Southwestern American Literature, and elsewhere. She is the author of Sabrina & Corina (One World, 2019), a finalist for the National Book Award, the PEN/Bingham Prize, The Clark Prize, The Story Prize, the Saroyan International Prize, and winner of an American Book Award. Her debut novel, Woman of Light, will be published in June 2022.

Please RSVP for this free reading at:

https://www.nationalbook.org/events/nbf-presents-honoring-ancestral-voices/

This event is part of the annual Boswell/Nelson Reading Series at NMSU. Please feel free to email Philip Perry at sperry44@nmsu.edu with any questions or concerns about the reading. We hope to see you there!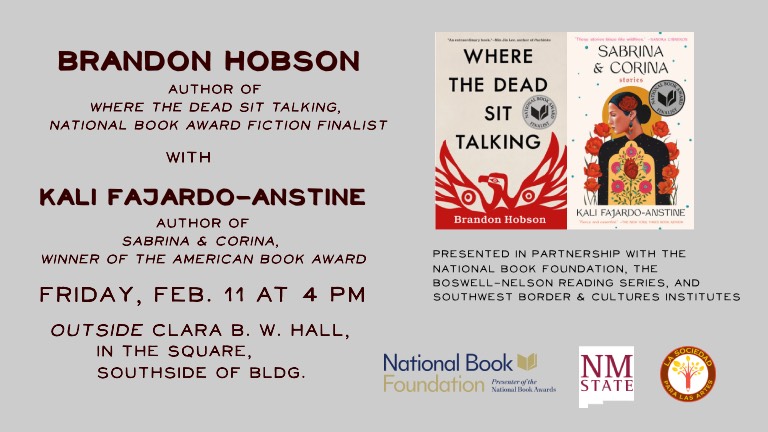 FALL 2021

August 27: Poet Kerry Banazek (Zoom – 2:30 pm)
September 24: Poet Rose Alcala w/Pardeep Toor (Zoom – 2:30 pm)
October 14: Novelist/Memorist Phillip Hurst w/Hampton Patty
November 12: Novelist David S. MacLean w/Tonya Suther
December 3: Poet/Novelist/Writer Shann Ray w/Haley Holden
SPRING 2022
February 11: National Book Foundation Presents: Kali Fajardo-Anstine and Brandon Hobson
February 25: Jenny Bhatt with Hampton Patty
March 18: Denise Chavez with friends
April 8: Sherwin Bitsui with Steven Cousler
April 15: Lehua Taitano with Natalie Streander
For a list of past readings, click here.
For more information about readings, please contact us at:
La Sociedad para las Artes
New Mexico State University
Department of English, Box 3E
Las Cruces, NM 88003