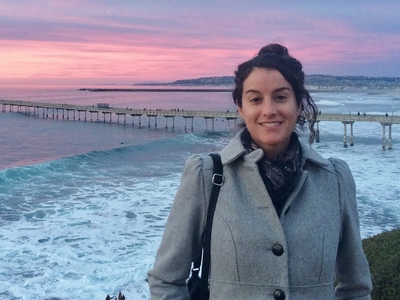 Justine Wells earned her PhD in Composition and Rhetoric at the University of South Carolina and has taught in the English department at NMSU since 2015. Her research critically explores white and Black traditions in the study of lived, sensory rhetorics of race, public memory, and environmentalism. She is interested in how rhetoric works in material and sensory ways to shape styles of inhabiting worlds that have key racial and ecological consequences.
Dr. Wells's published work has studied the work of sociologist and race activist W.E.B. Du Bois as part of larger and ongoing Black rhetorical legacies that have challenged dominant white traditions of both environmentalism and monumental memory. She is currently at work on a monograph that critically engages the Western rhetorical tradition from the perspective of Black feminisms to investigate how everyday taste practices can anchor racist and colonizing regimes, but also host countervailing, emancipatory modes of sensation.
For several years prior to beginning her graduate studies in rhetoric, Dr. Wells pursued a career in print and digital media production, including working with the American Library Association as a Production Editor managing the production of academic journals and books, and with Laserwords Publishing as a Production Artist creating K-12 textbooks for Houghton Mifflin, McGraw-Hill, and Pearson. She continues to participate in media production work within the discipline. This professional background informs her current research and teaching, which takes a critical, cultural, and anti-racist approach to the study of rhetoric and of technical & professional communication. Dr. Wells is the Coordinator of the Internship Program in Technical and Professional Communication.
Education:
Ph.D. in Composition & Rhetoric, 2015, University of South Carolina
MA in Philosophy, 2004, University of Wisconsin-Madison
MS in Psychology, 2003, University of Wisconsin-Madison
BA in Philosophy, 2001, College of Charleston
Professional Media Background:
Production Editor (2015-present), Editorial Assistant (2014-2015), Copy Editor (Spring 2014), Enculturation: A Journal of Rhetoric, Writing, and Culture, Scot Barnett, ed.
Editorial Assistant, Review of Communication, Pat J. Gehrke, ed., Taylor & Francis, 2014-2015.
Editorial Assistant, A Century of Communication Studies: The Unfinished Conversation (Centennial Volume of the National Communication Association), Pat J. Gehrke and William M. Keith, eds., Routledge, 2015. 2014-2015.
Production Editor, American Library Association, Chicago, IL, July 2008-July 2010
Production Artist, Four Lakes Colorgraphics/Laserwords, Madison, WI, August 2007-July 2008
Educational Media Assistant, Department of Natural Resources, Madison, WI, March-May 2007
Assistant Writer, Web Courseworks & Madison Productions, Madison, WI. May-August 2006
Communications & Media Assistant, The Nature Conservancy, Madison, WI. January-May 2006
Image Specialist, Arcadia Publishing, Charleston, SC, May-August 2000
Classes taught:
Graduate
Undergraduate
Selected publications:
Tracing Rhetoric and Material Life: Ecological Approaches. Bridie McGreavy, Justine Wells, George McHendry, and Samantha Senda-Cook, eds. Palgrave Macmillan: Studies in Media and Environmental Communication, 2018.
2018 Tarla Rai Peterson Outstanding Book Award Recipient, National Communication Association, Environmental Communication Division
Reviewed in Quarterly Journal of Speech4 (2018); Rhetoric Review 38.3 (2019); Rhetoric and Public Affairs 23.4 (2020)
"Monumentality, Ruination, and the Milieux of Memory: Lessons from W. E. B. Du Bois." Western Journal of Communication, forthcoming (accepted for publication March 23, 2020).
"W. E. B. Du Bois and the Conservation of Races: A Piece of Ecological Ancestry." Rhetoric Society Quarterly 49.4 (2019): 342-64.
Website:
https://nmsu.academia.edu/JustineWells
Contact: