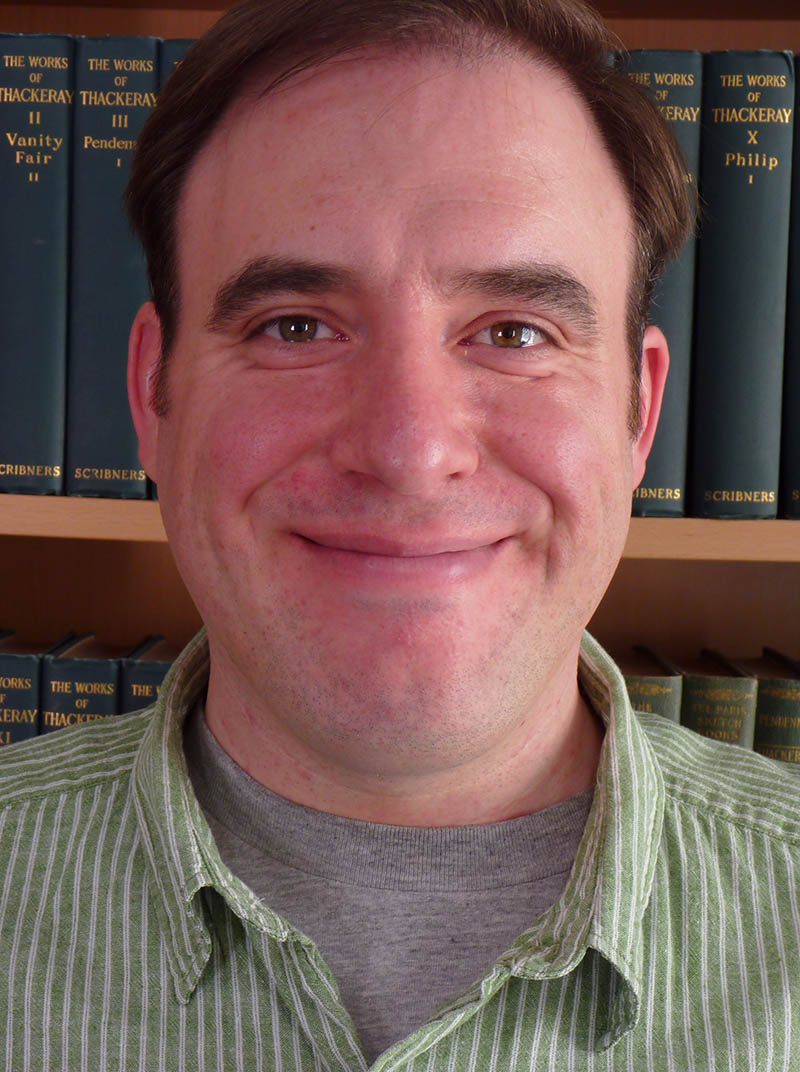 I came to NMSU in 2012, after completing my PhD at the University of British Columbia. In my research, I am especially interested in the intersections of Victorian literature and science: Charles Dickens's formal argument for a dualist psychology in his fiction, for example, or Edward FitzGerald's invocation of thermodynamics in his translation of The Rubáiyát of Omar Khayyám. That concern with the historical context of literary texts, with the larger conversations of which they are a part, informs my teaching, too: I'm very interested in working with students to illuminate the varied connections between poems, plays, and novels and the broader cultures of which they are a part.
Education:
B.A. (2001): Simon Fraser University, Burnaby, BC, Canada

M.A. (2003): Queen's University, Kingston, ON, Canada

Ph.D. (2009): University of British Columbia, Vancouver, BC, Canada
Teaching Emphases and Research Interests:
Victorian literature and culture

nineteenth-century psychology

history of science/science and literature

history of the novel

Victorian poetry and poetics
Courses Recently Taught:
English 2640: Literary Production from 1800 to the Present

English 310: Critical Writing


English 4/522: Victorian Poetry and Poetics

English 4/523: Charles Dickens

English 4/533: Work in the Victorian Novel

English 4/533: Victorian Theories of Mind

English 4/533: Victorian Realisms
Publications:
Dickens and Victorian Psychology: Introspection, First-Person Narration, and the Mind. Oxford UP, 2022.
"'No purpose, heart or mind or will': James Thomson and Psychological Automatism." Living Automata: Mechanism and Automatism in Victorian Culture, edited by Suzy Anger and Thomas Vranken. Forthcoming from Cambridge UP. 6000 words.
"The Meaning of Matter: Atoms, Energy, and the Rubáiyát of Omar Khayyám." Victorian Studies 63.3 (Spring 2021): 354-76.
"Psychology, psychiatry, mesmerism, dreams, insanity, and psychoanalytic criticism." The Oxford Handbook of Charles Dickens. Eds. Robert L. Patten, John O. Jordan, and Catherine Waters. Oxford: Oxford University Press, 2018. 388-403.
"'The Infinite within the Finite': Victorian Prosody and Orthodox Theories of Mind." Victorian Poetry 54.3 (Fall 2016): 245-74.
"'And Graves Give Up Their Dead': The Old Curiosity Shop, Victorian Psychology, and the Nature of the Future Life." Victorian Literature and Culture 42.2 (June 2014): 187-207.
"'Putrefaction Generally": Bleak House, Victorian Psychology, and the Question of Bodily Matter." Novel: A Forum on Fiction 44.3 (Fall 2011): 402-23.
"'What Is Natural in Me': David Copperfield, Faculty Psychology, and the Association of Ideas." Hamilton Prize Essay. Victorian Review 36.1 (Spring 2010): 55-71.
"Mightier than the Sword: Aggression of the Written Word in Great Expectations." Dickens Studies Annual 35 (2005): 179-208.
Contact: tmstolte@nmsu.edu or 575-646-3536